Quick Menu
Guidelines to Biddersfor E-Tendering


Phase II Views
Director General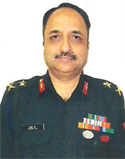 It is my proud privilege to assume the coveted and extremely challenging appointment of Director General of Married Accommodation Project. This is one of the largest construction projects of the Ministry of Defence which aims at complete alleviation of housing hardships faced by our brave soldiers through construction of approximately two lakh dwelling units.

The Married Accommodation Project (MAP) is a decade and half old Organization which has faced numerous challenges owing to its pan India spread as also prevailing business sentiment in housing sector. It goes to the credit of the Officers and Subordinate Staff of DG MAP that all challenges have been surmounted and Project is rapidly progressing ahead. The Organization has matured and stabilized and is on the cusp of creating history in infrastructure development with modern technology through most transparent, economical and efficient model.

Phase-I has been completed. Phase-II is now progressing satisfactorily. The final Phase is likely to be launched soon for construction of approximately 71000 Dwelling Units. New construction technologies are planned to be adopted at an unprecedented scale and Organization is well prepared to take on the challenge. We remain committed to the vision of the Honourable Prime Minister to introduce new technologies for speedy and quality construction at most competitive cost.

I extend my good wishes to all the members and stake holders of MAP and exhort them to continue to strive for excellence.
Jai Hind
— Maj Gen Sanjeev Jain
Director General, DGMAP